swimming
The goal of these lessons is to introduce the kids the pool environment, how to behave safe by the water as well as to teach them new skills.
All these things are taught in the fun way.
After the lesson the kids go home full of positive feelings and with the feeling that they have learned something new.
Our instuctors speak all main world languages.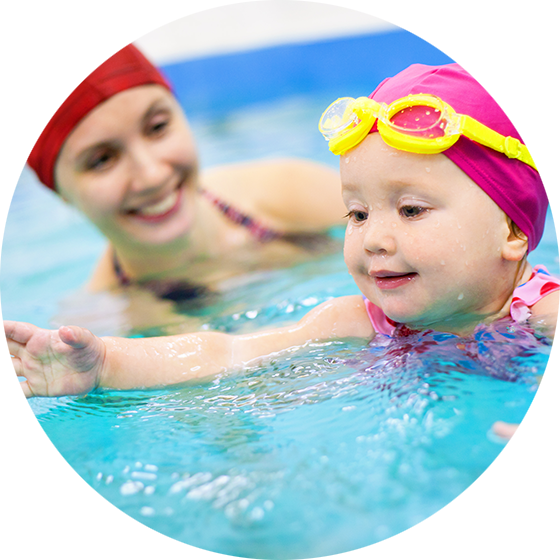 individual
and group
swimming
lessons
We offer swimming lessons for both children and adults. The lessons are trained in individual form, or in small groups (3children max)
The groups are divided according to the age and the swimming skills of each child which guarantees more efficiency than with normal group lessons.
Our instructors teach the kids in the friendly and respectful environment.
At the moment we are using swimming pools in these locations:
Hotel Intercontinental
In this swimming pool the water is salty and warm, which allows the lessons also for very small children (from 3 months), for beginners or slightl experienced swimmers.
The lesson is 40 minutes.
Price 450czk
The price excludes entry to the pool
For prices for group lessons please ask at andrea@swimmingandrea.com
Hotel Pyramida
This swimming pool is suitable for beginners but also advanced swimmers. The lesson lasts 45 minutes.
Price 650/700 czk
Weekend and group lessons price at andrea@swimmingandrea.com
The price includes the entry to the pool.
Swimming pool Výstaviště
Swimming pool length 25m is suitable for beginners but also experienced swimmers who needs intensive training.
Lesson lasts 45/60 min.
Cancelation policy: The lesson has to be cancelled at office@swimmingandrea.com at least 24h in advance,
Lesson cancelled on time to be made up following week according to current schedule.
Lesson cancelled late is charged.
Fee paid for the lessons is not refundable.
swimming lessons
for schools and kindergartens
We organize swimming lessons for schools and kindergardens, means for the kids aged from 2 to 15 years old.
These lessons take place in the swimming pools we colaborate with suitable for groups.
We can also organize the training in the pools comfortable for your school.
Our instructors speak main world languages.
swimming
school
in the nature
We will organize for you swimming school in the nature in the sports center Nymburk, which is located in the beautiful forest park on the banks of Labe river, so there is lots of sport possibilites of walks, jogging and another sports activities.
We have the possibility of cinema room, regenerative swimming pool, or in bad weather any of the local sport halls.
Meals are provided in the local dining room where children can choose from several dishes.
There is a great choice of the salads, beverages and other good stuff.
Such a program we can organize also in other location according to your wish.